the riverfront gallery
The Riverfront Gallery hosts a broad spectrum of diverse and exciting arts exhibitions throughout the year. We are proud to host exhibitions by professional and emerging artists, sculptors, community groups, and schools. From photography to film, textile to graphics, fine art to performance art, the gallery provides a perfect platform to showcase work to the hundreds of visitors who come into The Riverfront each week.
Currently on display in the mezzanine gallery: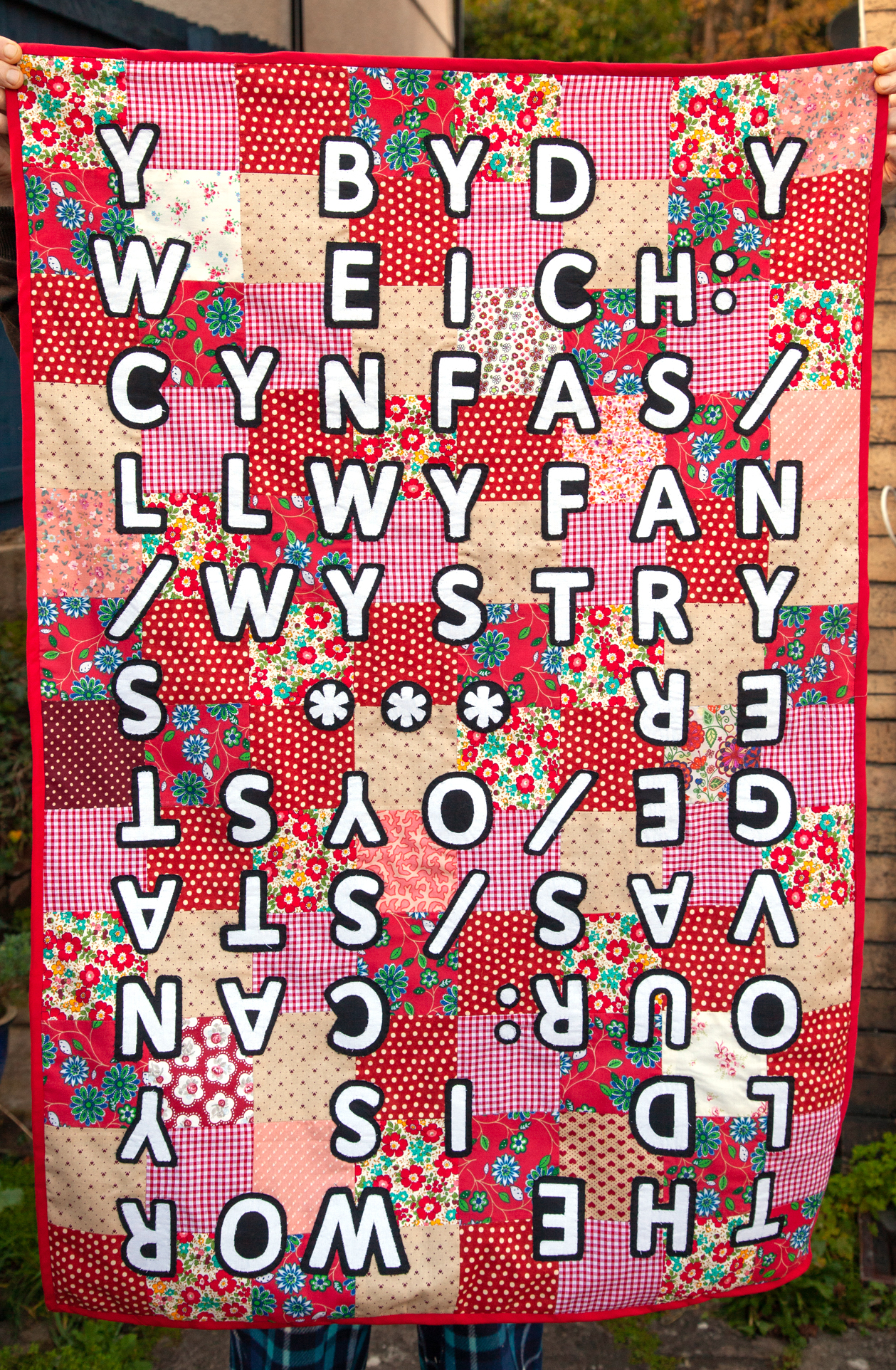 Make Do & Mend
An exhibition from Kate Mercer
Started in March 2020 (during the first lockdown of 2020), 'Make Do and Mend' is a series of patchwork quilts which explore ideas of wrapping, warming and protection. Specifically, these patchwork quilts are made from recycled cotton fabrics, repurposed into something that warms and comforts those they wrap around.
"During the first lockdown of 2020, I was living away from home, shielding with my terminally ill mother. Textile projects were something we would do together – my mother teaching me skills to sew, make, repair and create. Lockdown made me reflect a lot about ideas of transition, particularly passing knowledge from one generation to another."
Make Do & Mend is a gentle contemplation of these roles and relationships, and how actions impact and influence those around us. The process of making these quilts imbues renewal and repair, with the added text elements passing on life lessons and observations to their viewer. Enveloping others with words through textiles, photography and performative acts these quilts are an exploration of domesticity and needlework in art.
Join our exhibition!
We would like you to get involved in our current exhibition 'Make Do & Mend' by Kate Mercer.
We would like to showcase your images and writing in our Mezzanine Gallery space alongside Kate's work.
Submissions on the theme of 'Make Do & Mend' can be dropped off at The Riverfront or emailed to [email protected].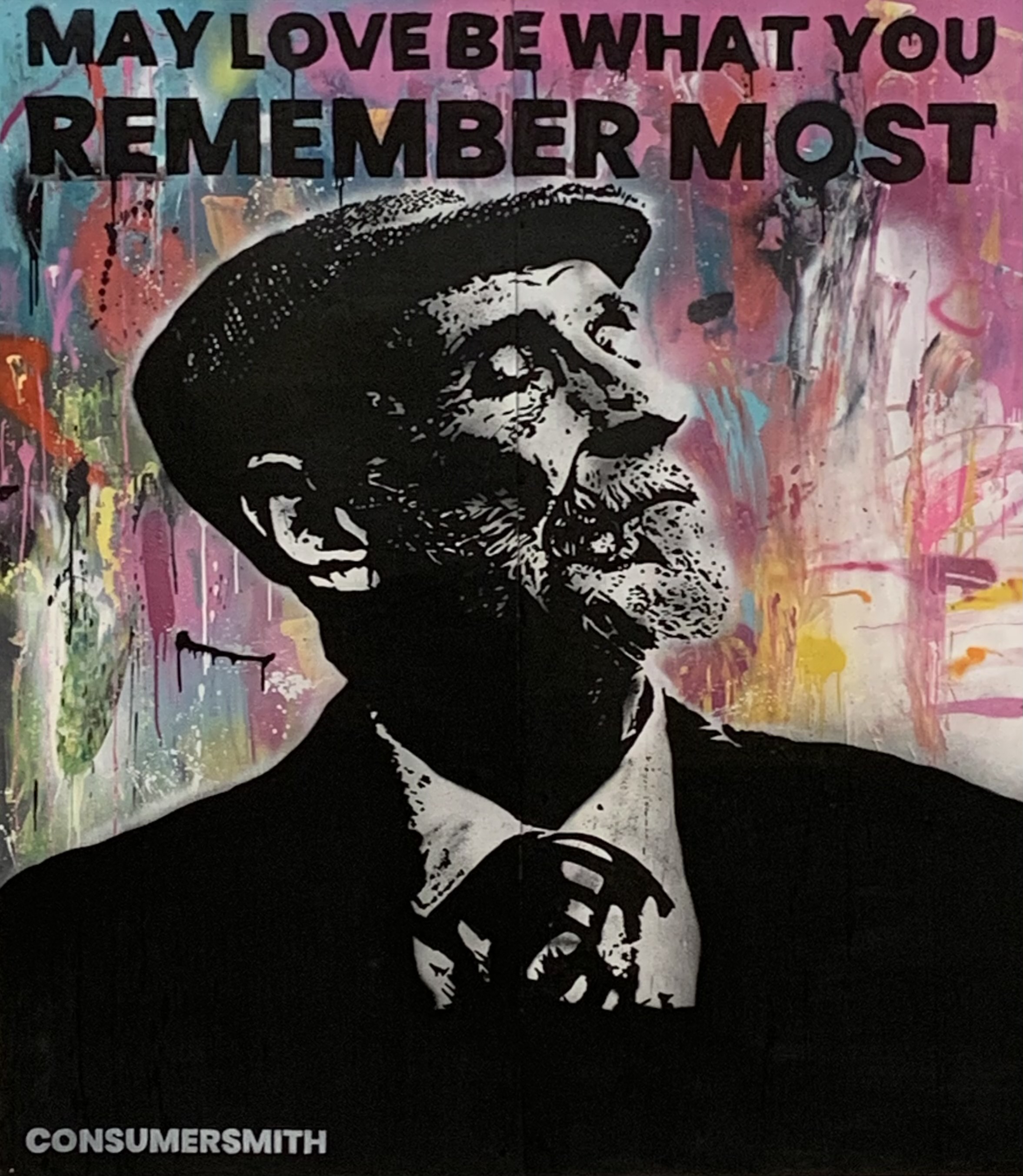 May love be what you remember most by CONSUMERSMITH
This piece, 'May love be what you remember most,' stands as a memorial for life lost in recent times. The elderly, the vulnerable, the isolated people, the lonely people, the widows, the people in care unable to be visited through this global chaos and new age.
It was originally installed in the street but then moved to its current location at The Riverfront, where it can be viewed from outside the building through the glass.
AJ Smith who as an artist goes by the name of CONSUMERSMITH creates work that leaps between contemporary abstract expressionism and pop/street art portraiture. He is a prolific painter who has sold and created work worldwide and continues to sell and create work at a Steady rate - private commissions on paper or canvas to small- and large-scale murals for commercial properties, schools and homes. With his roots in graffiti and street art, CONSUMERSMITH is pushing boundaries of self-expression with vibrant work that is full of movement, colour and freedom.
"Movement and colour understand each other '' - Consumersmith
We are currently selling prints of this artwork to raise money for future community activities.
Past Exbibitions:
A Newportonian's Scope on Coronavirus
An exhibition from Lloyd Miller
In this series of photographs, Lloyd aims to show the impact of COVID-19 within Newport City centre, showing the measures that have been implemented to protect everyone within the community including social distancing, masks, screens, and sanitizer.
He hopes that the exhibition will encourage people to talk about their personal experiences and the impact that COVID-19 has had on them. The photographs will be also sent to public archives including National Library of Wales, Gwent Archives and Newport City Council so that they can be used for future study by many generations ahead.
This work has been funded by Arts Council Wales, with the funding covering the losses Lloyd encountered as he was unable to photograph in nightclubs. At the end of the project, he will be looking for more opportunities for securing funding future photography projects.
While the Riverfront was closed to the public in 2020 & 2021 the windows of the venue were transformed and turned into a space to display artwork that can be admired from outside the building. Over the last twelve months pieces have been on display from the Lost Connections project, Share the Love and pieces forming a gallery for Art on the Hill 2020.

RED SHOES Poster Archive
Educate Agitate Organise – Posters for Change
RED SHOES Poster Archive is a not for profit artist-led radical poster collection based in South Wales curated by Shaun Featherstone. The archive consists of over 1000 posters which represent a wide variety of social justice issues like climate justice, civil and human rights, equality, poverty, industrial disputes, international solidarity and peace. The aim of the archive is to help preserve the social history of people powered movements and campaigns by collecting and displaying inspiring images which reflect both contemporary and historical struggles for progressive social change and equality.
There will also be workshops to accompany the exhibition where young people can make posters in response to the climate emergency.
Poster donations from groups and individuals are actively encouraged for the duration of the exhibition.
Social Media: Red Shoes Poster Archive
Email: [email protected]
If you are interested in exhibiting in our gallery please email Sally-Anne Evans at [email protected] or call 01633 656757.