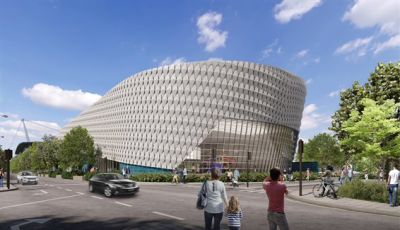 In February 2021, cabinet approved the creation of a purpose-built centre, with modern facilities, located on a key riverfront site to replace the ageing Newport Centre.
It will be built to the highest possible environmental and sustainable standards.
A public consultation on the proposals received more than 1,000 responses with the overwhelming majority supporting the proposed new developments.
Find out more about the progress of the new leisure centre below.
September 2021: New image of proposed leisure centre
Following the submission of the application for the proposed new leisure centre for the city centre, Newport City Council is sharing a new image of how it could look.
March 2021: Welsh Government funding awarded for leisure centre
Newport City Council has successfully secured £7 million Welsh Government Transforming Towns funding towards a new city centre leisure and well-being centre.
February 2021: Green light for new leisure centre and city centre campus
Newport City Council's cabinet has agreed a new leisure and well-being centre should be created in the city centre.
January 2021: New leisure centre and Coleg Gwent campus
The council's cabinet has agreed the proposal for a new leisure and well-being centre as well as a new city centre campus for Coleg Gwent.