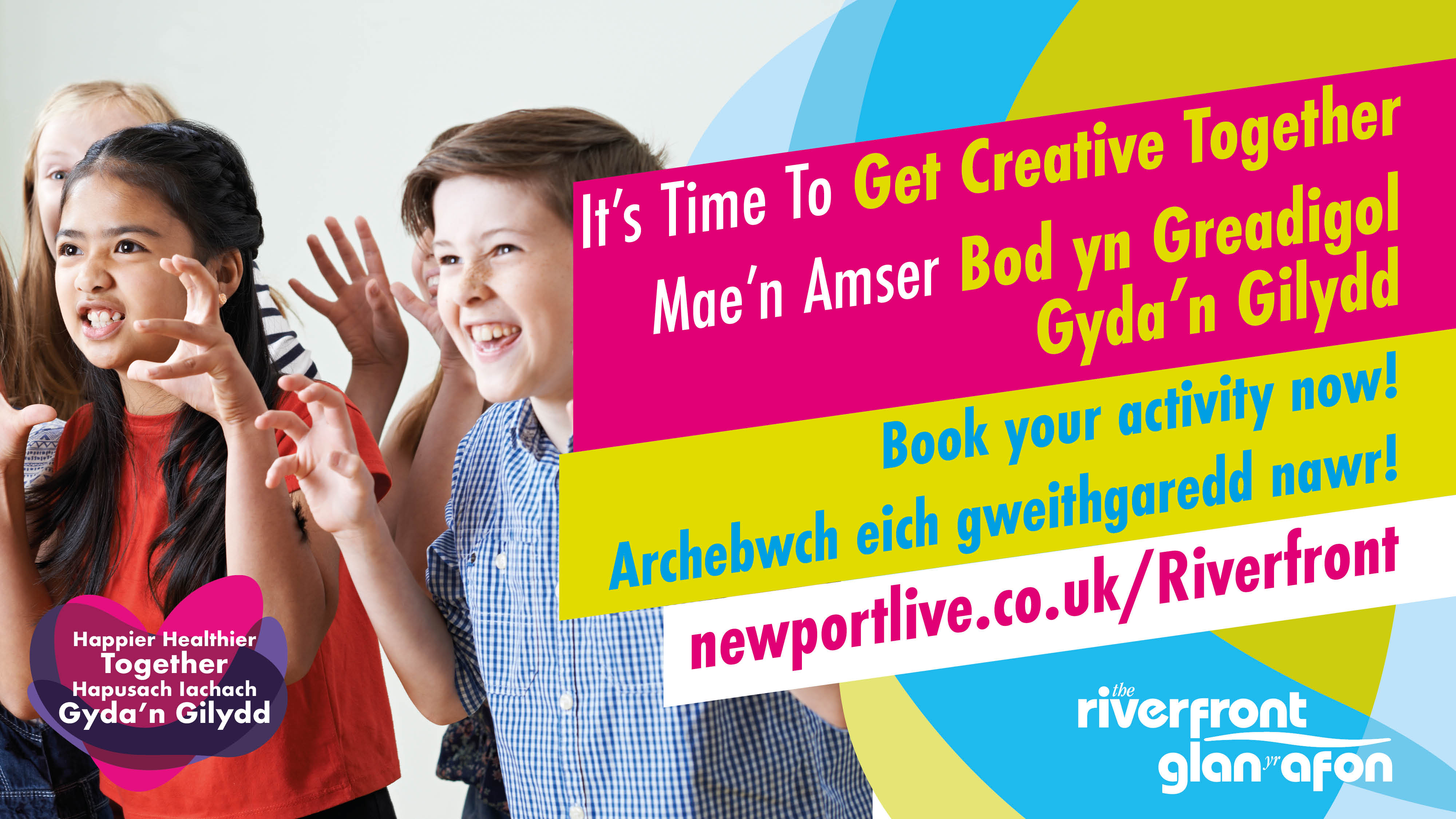 We are thrilled that from Monday 2nd August, the Riverfront Theatre and Arts Centre will be re-opening its doors to customers once again!
We have been working hard to prepare for re-opening and have made some exciting changes to our café and our foyer and we cannot wait for you to finally be able to see them.
We're following Covid-19 Guidance set out by Welsh Government to help keep you, our other customers and staff safe and will keep you up to date as things change. You can read about our Covid measures to keep you safe here.
We can't wait to welcome you back and for you to join us for some of our wonderful summer activities mentioned below!
Children's Holiday Activities 
We have some fantastic summer holiday activities coming up this summer to keep the kids entertained!
Youth Theatre Mini-School  
Join us for a fun mini summer school, packed with theatre games and activities.
The workshops will include skills in game play, performance, improvising and storytelling.
Please bring a pack lunch and water bottle.
Age: 7-10
English language: 10-11 August, 9.30-3.30pm
Welsh language: 16-17 August, 9.30-3.30pm
Age: 11-14
English language: 12-13 August, 9.30-3.30pm
Welsh language: 23-24 August, 9.30-3.30pm
Price: £30
Book Now
Minecraft Club 
Here is a great opportunity for your children to enjoy their favourite pastime but also be social! Children get the opportunity to join worlds and work in teams to complete a number of exciting challenges, all done in a safe off-line environment.
Monday 2, 9,16, 23 August, 2pm-4pm
Thursday 5, 12, 19, 26 August 10am – 12pm
Age: 6-11
Price: £8
Book Now
Sport in the Park
Local artists and entertainers will be popping up across four outdoor spaces this summer and performing as part of Sport in The Park. Arts and craft activity tables will also be available at the events.
4 August – Beechwood Park
11 August – Ringland Playing fields
18 August- Tredegar Park
25 August - Rogerstone Welfare Ground
Time: 10am –12:30pm & 1pm - 3:30pm
Age: 3-11
Price: Free – limited spaces so book in advance.
Book Now

Splashtonbury is Back!
Join us this August for some free festival fun at The Riverfront! We have fun activities and performances for all the family.

Live at The Riverfront
Friday 6, 13, 20 & 27 August, 6pm-10pm
Open to all ages
Join us for live music on the terrace plus some great pop up performances all based on a different theme every week. Pop by for a drink after work, bring your family and relax as we entertain you. Opening our summer of music on Friday 6 August and Jamaican Independence Day will be Aleighcia Scott.

Splashtonbury Saturdays
Saturday 7, 14, 21 & 28 August, 10am-4pm
Open to all ages
Make a big splash in your little bubble! Come and enjoy free creative arts activities, live street theatre plus music throughout the day in safe and welcoming spaces.



Family Discos
Tuesday 10 & 24 August, 10am & 1pm
Age: Families with children under 7
Grab your glow sticks and glitter for a family boogie in our dance studio. Shake off the last year and have fun with your family!
Riverfront Café
The brand new look Riverfront café will be open from 2nd August for coffee, cake and light bites.
We'll have a new menu with more on offer later in the summer so keep an eye on social media for details.
Live Performances & Cinema
We'll be announcing some exciting performances taking place this Autumn very soon! Keep an eye on social media or join our mailing list for the latest updates.

Contact Us
If you need to contact a member of The Riverfront team, please call 01633 656757, email enquiries@newportlive.co.uk or use the chat function on our website.
You may find answers to our Frequently Asked Questions here.
Facebook - TheRiverfront
Twitter - RiverfrontArts
Instagram - RiverfrontArts
Website - www.newportlive.co.uk/Riverfront