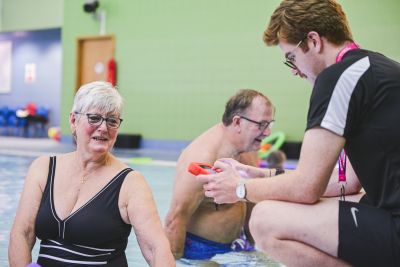 After receiving funding from UK Research and Innovation (UKRI) as part of the Healthy Ageing Challenge, Newport Live is taking a leading role in a two-year research project examining how leisure centres/facilities may be transformed into musculoskeletal (MSK) hubs within the community.
Newport Live will be the leisure provider in charge of delivering sessions that seek to improve people's lives by getting them moving with gentle water and land-based exercise in a fun and social environment, so taking care of your health becomes a pleasure rather than a chore. This is done in partnership with Good Boost, ukactive, Orthopaedic Research UK, ESCAPE-pain, and Arthritis Action. To provide individually tailored rehabilitation in a low-impact and low-pain setting, the sessions make use of technology created by musculoskeletal specialists. This helps people control their musculoskeletal disorders and to progress in their exercises at their own pace.
Ellis Redman, Wellbeing Ambassador at Newport Live said "People who would have otherwise stayed at home or would be struggling to get by day to day in pain have come through our doors thanks to the Good Boost initiative. Giving them the chance to use the artificial intelligence app from Good Boost, which offers aquatic and land-based rehabilitation sessions, to lessen their discomfort and increase their mobility, has been very fulfilling. We have witnessed the participants' confidence grow week by week."
Andrea Ovey, Director of Business Development said "Good Boost was a hugely important programme for Newport Live to bring to the leisure trust, the city and to Wales. Good Boost targets people who need that extra element of support and guidance, which the committed team at Newport Live can do. The members who have signed up to Good Boost to date have seen results that improve their mental and physical well-being. I strongly encourage people to take the steps to become active through Good Boost and other Newport Live programmes now and take positive control of their well-being.
People with a wide range of health concerns, such as osteoarthritis, rheumatoid arthritis, musculoskeletal diseases, hip and knee pain, or those who have just had hip and knee joint replacement surgery, can benefit from Good Boost sessions. The lessons run for an hour and are divided into a 10-minute warm-up, followed by 3 to 4-minute individual exercises, and enjoyable group activities.
Participants must complete an assessment session with Newport Live's fitness staff before scheduling a Good Boost session. To schedule an assessment appointment, contact Newport Live at 01633 656757 or email goodboost@newportlive.co.uk.
Good Boost Aqua sessions are held at various times from Monday through to Thursday at the Regional Pool & Tennis Centre. Sessions for Good Boost Land are held at various times at Newport Centre and the Regional Pool & Tennis Centre from Monday through to Friday. Sessions cost £2 and can be booked via the Newport Live app and website at newportlive.co.uk/WhatsOn, at the reception of any Newport Live leisure centre, or by calling 01633 656757.
Newport Live is a not-for-profit charitable trust which means the money they make is wholly reinvested into the services and facilities they offer, so all Newport Live customers are supporting the local community through the delivery of these projects and activities.
To find out further information about Good Boost at Newport Live visit newportlive.co.uk/GoodBoost or check out @NewportLiveUK on social media for the most recent information.