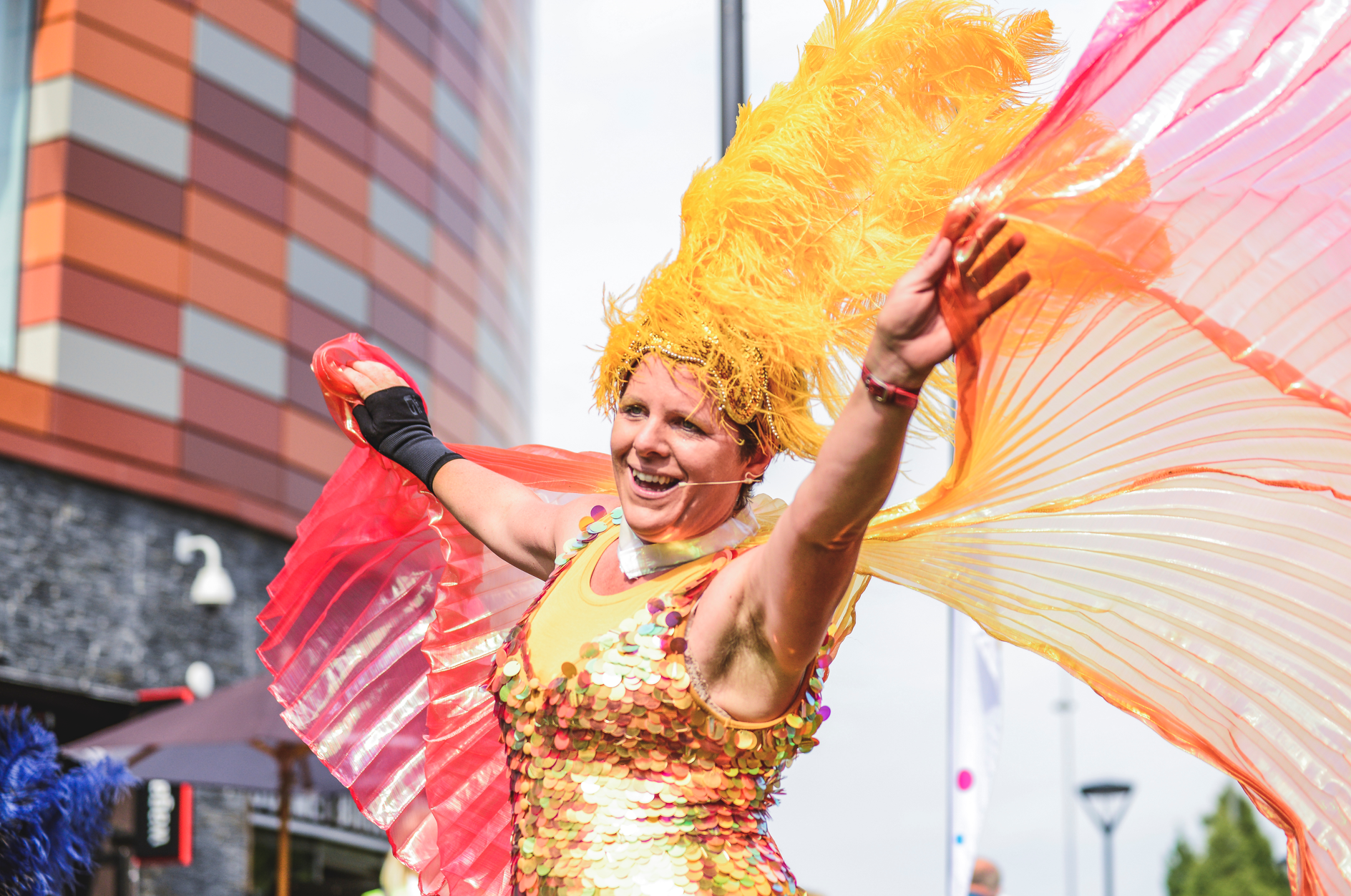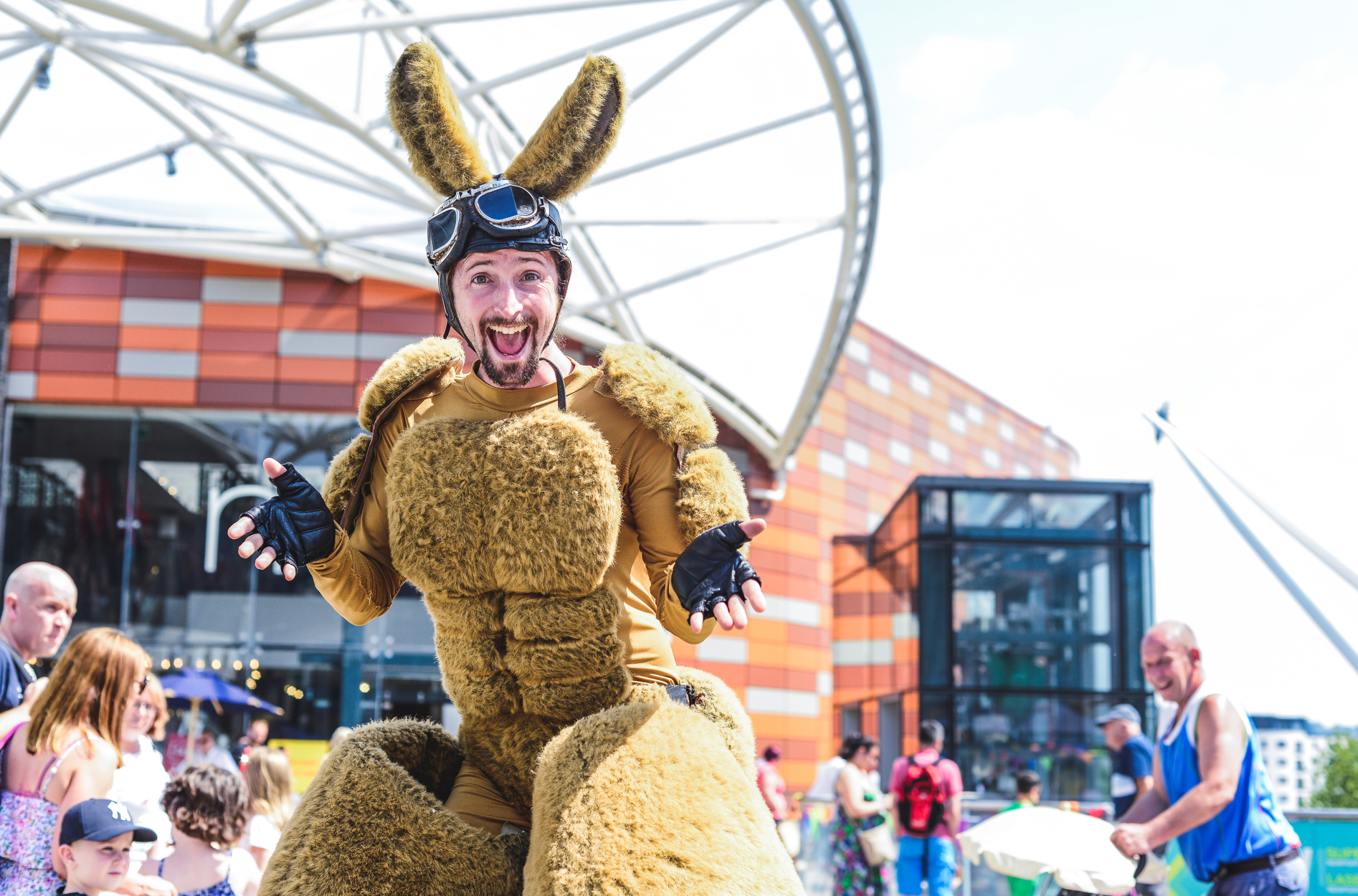 After an absence of two years, Newport Live and The Riverfront are thrilled to announce that their much-loved family street theatre festival Big Splash will be returning to the streets of Newport this summer on Saturday 23 & Sunday 24 July.
The festival will once again amaze, amuse and entertain local people and visitors of all ages with the fantastic arts activity on offer including street theatre, busking, workshops and arts and craft activities, all of which can be enjoyed free of charge.
Performances will pop up in a number of zones across the city centre including the river walkway, John Frost Square and Commercial Street as Newport is transformed into a large outdoor stage. As always The Riverfront itself will be transformed into family hub Splashtonbury, encouraging the whole family to get involved in the arts and creativity.
Highlights of the festival in 2019 included Dizzy O'Dare bounce about inside his giant lime green balloon, a very friendly giant tortoise called Zelda and Whimsy a beautiful dance piece from Krystal S Lowe. Audiences were enthralled as The Band at the End of the World performed an energetic, lively and at times poignant musical procession set and two giant human jukeboxes had visitors singing and dancing along to a range of classic tunes.
Information about all the acts joining the Big Splash 2022 line up will be released very soon, but The Riverfront and it's partners promise to bring back some Big Splash favourites as well as some new and exciting acts to enjoy. There will be live music, workshops, community performances and of course a wide variety of diverse street theatre acts all ready to entertain all ages. The Riverfront are once again delighted to be partnering with Newport's Le Pub this year to bring back the Big Splash Busk.
Big Splash 2022 has been made possible thanks to the generous funding from Arts Council Wales and Newport Live, as well as sponsorship from Friars Walk and The Newport Now Business Improvement District (BID). There are still sponsorship opportunities available for the festival this year. If you would like to get involved and sponsor the festival please email [email protected].
BID manager Kevin Ward comments: 'We're delighted to be involved with the Big Splash again. It has become one of the key events in the city centre calendar and brings much-needed footfall into the BID area to watch the fantastic street performances. The festival has been greatly missed the last couple of years so it's wonderful to see it return this year.'
Simon Pullen, Centre Director at Friars Walk adds: 'Big Splash always brings such a great energy to the city, and we're delighted to be working with the Riverfront once again to support the creative community in and around Newport. Friars Walk will be a real hub for the event, with John Frost Square and Usk Plaza providing fantastic performance spaces for the street theatre acts.'
On the return of Big Splash The Riverfront's Head of Theatre, Arts & Culture, Gemma Durham, comments: 'We are all so excited to see Big Splash return this summer and kick off a summer jam-packed full of family activity. After not being able to run the festival for a couple of years, we can't wait to enjoy a fantastic range of acts and arts activities with people from across Newport, and we are so grateful to the funders and partners who make it possible. As ever we pride ourselves on putting together a festival programme for everybody with activity for all ages to come and join in with. We hope to see you all there this summer!'
To stay up to date with everything that is planned for Big Splash 2022 make sure you keep an eye on social media, facebook.com/bigsplashnewport and Twitter @BigSplashFest, and visit newportlive.co.uk/BigSplash. The first act announcements for the weekend will be made very soon!