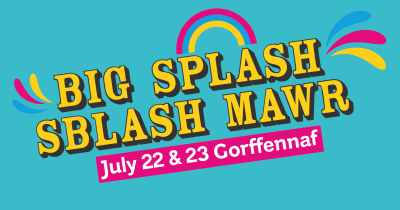 The largest free outdoor arts festival in wales returns to Newport for 2023!
Join us on Saturday 22 & Sunday 23 July for a weekend jam-packed with free activities for all of the family to enjoy.
The Big Splash festival is an annual event that energises the streets of Newport with festivalgoers who come in their thousands to be immersed in the fun and excitement of theatre and arts. The festival attracts over 20,000 visitors and brings the city to life with its extraordinarily talented and captivating programme of events.
The city centre will be brimming with entertainment in every corner, with a programme packed full of street theatre, live music, workshops, arts and craft activities and so much more for visitors to enjoy, all free of charge. We'll also see the return of the much-loved family funfair!
The two-day event is the perfect family experience, recommended for all ages. It's the ultimate kick start to the summer holidays!
Sing, dance, laugh, create and be enthralled at the Big Splash festival 2023.
For all the latest updates and to share your Big Splash stories and memories with us, check out our Facebook and Twitter pages. We will also be posting lots of exciting content on The Riverfront's Instagram.
If you are accessing the page through a mobile device, please scroll down to view the performances.
Acts
We are thrilled to announce that the following acts will be joining us for Big Splash 2023! We will be updating this list frequently so please keep checking back.
Our FREE fun filled, jam packed programme of activities, pop up performances, live music and workshops.
Head to The Riverfront where the free activity runs all day. Listen to music on the terrace, grab a drink and join in the festival fun with henna, hair braiding, tattoos and glitter.
This zone covers in and around The Riverfront Theatre, including the Terrace Stage, the Celebrate Stage, Big Splash Boulevard and the Newport Pride bus.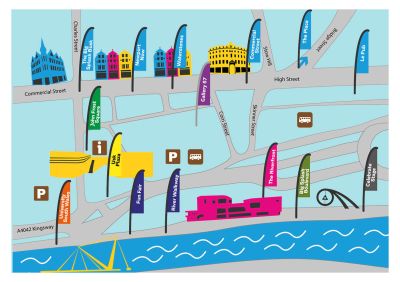 General Accessibility Information
All areas of the festival and performances are accessible to wheelchair users.
Disabled parking is available at Friar's Walk and Kingsway car park.
An audio described version of the programme is available here.
The information point will be manned by our British Sign Language interpreter during different points throughout the weekend.
A large print timetables will be available at The Riverfront Box Office and at the Information Point.
The Riverfront Box Office has a hearing loop for use by people with hearing aids.
The Riverfront Theatre will include a Calm Area; a quiet space you can retreat to if you need some time for a moment of calm. For people on the autism spectrum or anyone who may need a break away from the festival.
We respect the needs of all our visitors and make a conscious effort to make our event as accessible as possible. If you would like to discuss specific requirements or concerns with a member of staff, there are a variety of ways you can communicate with us - call 01633 656679, email riverfront.boxoffice@newportlive.co.uk or come into The Riverfront and speak to our Box Office team who will be able to assist you.
Bilingual Performances
Saturday
- Frantasic – 12.45
- TRUTH/ Y GWIR – 13.00, 15.00
- FacePainting - 11.00 - 17.00
Sunday
- Frogs in Bogs / Brogs y Bogs – 12.30 (bilingual), 15.30 (Welsh)
- Holes – 13.00, 14.35
- FacePainting - 11.30 - 16.30
2023 Funders, Sponsors & Partners
A huge thank you to our funders, sponsors and partners for helping make Big Splash 2022 possible: