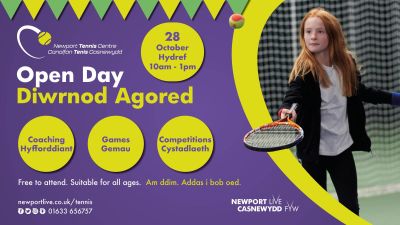 Newport Tennis Centre is thrilled to announce the grand opening of its freshly resurfaced indoor tennis courts. To commemorate this exciting milestone, the centre will host an open day on the 28th of October, 10am – 1pm.
The refurbishment project funded by Newport City Council and Sport Wales, which commenced in September, had a primary goal of enhancing the overall playing experience at the facility. This initiative holds significant importance for both local residents and visitors from other regions, as Newport Tennis Centre is one of only six Community Indoor Tennis Centres in Wales.
To mark this momentous occasion, Newport Tennis Centre extends a warm invitation to all tennis enthusiasts, members, and the general public to join them for a launch open day on the 28th of October 10am – 1pm. The event promises a day filled with exciting activities suitable for all ages and skill levels. Attendees will have the unique opportunity to engage in friendly matches, receive coaching tips from experienced instructors, and, most importantly, put the newly resurfaced courts to the test!
Luke Difranco, Tennis Manager at Newport Live, expressed his excitement, stating, "We are absolutely thrilled to unveil our newly resurfaced indoor tennis courts, a project that epitomises our unwavering dedication to delivering top-notch facilities for our members and the wider tennis community. This significant renovation isn't just about improving the physical infrastructure; it's a reflection of our deep-seated commitment to fostering a love for tennis. We firmly believe that these upgraded courts will go beyond enhancing the playing experience; they will ignite a newfound enthusiasm for the sport. Our hope is that they will serve as a catalyst, inspiring more individuals to either embrace tennis as a new passion or reignite their existing fervour for the game. These courts represent more than just a surface; they signify a vibrant future for tennis at Newport Tennis Centre."
Richard Dale, Head of Business Development at Newport Live said "Newport Tennis Centre's freshly resurfaced indoor tennis courts are a testament to our commitment to excellence. We're thrilled to invite tennis enthusiasts, both seasoned players and newcomers, to join us on the 28th of October for a day of celebration. These upgraded courts are more than just a surface; they represent our dedication to providing high quality facility for our community and for tennis in Wales. Newport Live aims to inspire people to lead happier and healthier lives through participation in tennis".
The Newport Tennis Centre launch open day will take place on the 28th of October from 10am – 1pm. This event is free of charge, and everyone is welcome to attend. Whether you are a seasoned player or simply curious about the sport, this event promises to be an exhilarating celebration of tennis and the upgraded facility at Newport Tennis Centre.
For further information and updates about the Newport Tennis Centre launch open day, please visit newportlive.co.uk or check out our social media channels @NewportLiveUk for more information.