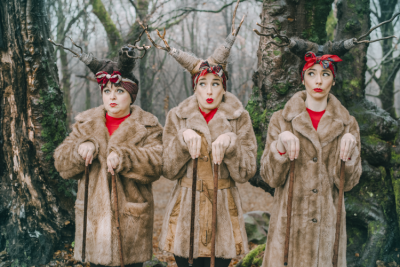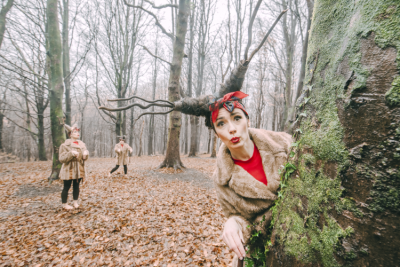 HOOF!
Sunday 16 May at 11am, 1pm & 3pm
Monday 17 May at 4pm, 5.30pm & 7pm
Tuesday 18 May at 4pm, 5.30pm & 7pm

Age Guide 4+
Tickets £6
Show duration 30 minutes
This May we are delighted to be welcoming Theatr Iolo and Kitsch & Sync back to The Riverfront for a magical adventure into the limelight, HOOF!
The front of The Riverfront will be transformed into a magical stage as HOOF! and their travelling theatre arrive to spread some laughter and joy, perfect for families with children aged 4+.
The first 20 families who book to attend the show will receive a free craft pack from Naz of Ziba Creative, jam-packed full of wonderful materials, equipment, lots of ideas, instructions and templates to inspire children to use their imaginations and get creative.
About the show
Three little deer make an unexpected discovery when they stumble across an old, abandoned theatre in the woods. Investigating their new find, this cheeky trio quickly find themselves in spotlight and treading the boards for the very first time! Will the toe-tapping friends be able to bring the long-forgotten theatre back to life? Or will the lights be turned off forever?
Keeping you safe
As our first performance at The Riverfront since before the Covid-19 pandemic we understand that our audience have additional questions and concerns regarding what to expect and how this show will be run.
To try and answer your questions we have created this handy guide for full information on age suitability, Covid-19 guidance and social distancing.
Booking information
This show will be outside The Riverfront's front doors and is an all standing event. If you have any specific access requirements please contact [email protected] for more information.
Each group coming to this show can buy a maximum of 6 tickets and each group will be socially distanced from the next group. A group must contain 2 or more people (including children) and all groups should include at least 1 child.
Everyone in your group has to be from the same household or extended household bubble. You are welcome to attend at the same time as family or friends but if they are in a different household you must book separately and socially distance.
When you book we will email a confirmation to you which will be your proof of entry,
Please arrive 15 minutes before the show time and register with our Front of House staff.
How to Book
Unfortunately tickets for this performance are not available online.

You can however book via email on [email protected] or [email protected].

Or call us on 01633 656 679 or 01633 656 757. If for any reason you can't reach us, please free to leave us a voicemail and a member of the team will get back to you as soon as possible to get you booked in!