Celebrate International Women's Day at The Riverfront!

Each March we celebrate International Women's day at The Riverfront with some fantastic free performances and taster sessions all with a female focus.
International Women's Day 2023 takes place on 8 March 2023 and this year the theme is #EmbraceEquity.
Organisers of International Women's Day state, "Equality is the goal, and equity is the means to get there. Through the process of equity, we can reach equality."
On Saturday 11 March from 10am – 4pm we will be hosting our annual International Women's Day event. Throughout the day there will be performances from celebrated Welsh musicians, community groups and panel discussions from inspiring local women. Delicious refreshments and food will be available to enjoy whilst meeting and chatting with like-minded people.
As well as watching a range of high-class performances, there will be local artisan stalls for visitors to peruse and purchase unique locally made crafts. There are also opportunities for children and adults to craft and create, as well as a range of creative, expressive workshops to take part in.
Guests are welcome to stay all day and enjoy a variety of events or come and go at their own leisure.
All events, which will run from 10am-4pm, are free, and no booking is required!
Our website and social media pages will be updated regularly with more information and a timetable will be published closer to the event date.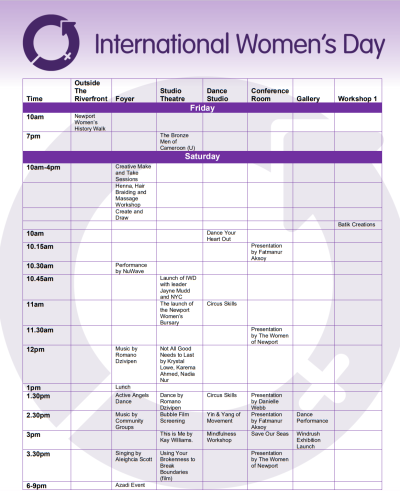 More Detail about our timetable
Newport Women's Forum History Walk
Sylvia Mason will be repeating her popular women's walks again this year. These are one hour, flat pavement strolls during which Sylvia will talk about notable Newport women of the past. They will start and end at the Riverfront Theatre.
The first one this year will be on Friday 10th March starting at 10am.
Sylvia is raising money for the Newport Women's Bursary so a donation of at least £5 is requested.
For further details contact Sylvia on sylviamason1@me.com
The Bronze Men of Cameroon (15)
A film by Florence Ayisi. The film is an intimate portrait of a community of bronze artisans in Foumban, the 'City of Arts'.
Florence Ayisi was born in Cameroon. She is professor of International Documentary Film at the Faculty of Creative Industries, University of South Wales, U.K. (USW). She teaches diverse aspects of film theory and history, and documentary film practice.
Creative Make and Take Sessions
Artists Heidi Mehta and Najiya Atkar will be doing free creative workshops throughout the day. For the young and young at heart.
Henna, Hair Braiding and Massage Workshops
Pop along to the Newport Sudenese Community stall for workshops. There will also be meno cafe chats running throughout the day.
Create and Draw Newport's Future!
Artist Bethany Seddon will be working on a creative and interactive wall. Get involved and add your thoughts.
Batik Creations
Make a batik creation with Sam Hussain and take a look at some of the fantastic work The Roots group have on display.
Dance Your Heart Out
A guided movement session with Katy and Anna. Come and enjoy some tunes and dance with us! Open for all ages, no experience necessary.
Presentation by Fatmanur Aksoy
Fatmanurs' experience of life as member of the Welsh Youth parliament and her commitment to young people and mental health awareness
Performance by NuWave
NuWave are Rubicon and Riverfront's over 50's dance group.
The launch of IWD 2023!
Leader Jayne Mudd and Newport Youth Council will officially launch the event.
The launch of the Newport Women's Bursary
The Newport Women's Forum will be launching their Newport Women's Bursary. The aim of the bursary is to help women, aged 18 and over, fulfil their ambitions.
Circus Skills
The Circus of Positivity providing the opportunity to try new skills in a fun environment. Pop along and drop by to try!
Presentation - The Women of Newport
The Women of Newport invite you to discover more about our community group discussing our fabulous past projects and hopes for the future community projects utilising the talents, creativity, heritage and uniqueness that is available in Newport.''
Dance and music performances by young people from– Roma Life- Romano Dzivipen
The group has been created and led by members of The Roma community in Newport as part of the 'Travelling Back to Nature' project organised by The Romani Cultural and Arts company. The dances represent four seasons and show the importance of music, dance and nature in the lives of the Roma people.
Romani Hviezda Band-Gypsy Star band is a recently established music band by the Roma youth who want to use their talents and passion for music to share their Roma culture with wider audiences as well as to explore new cultures through music.
Not All Good Needs to Last by Krystal Lowe, Karema Ahmed, Nadia Nur
Not All Good Needs to Last is a collection of spoken word, short story readings, and dance theatre performances exploring the complexity and beauty of life as a woman.
Lunch
Light lunch will be served Accompanied by Bread and Roses as well as young people from Operasonic.
Performances By Active Angels Dance
Active Angels is a social enterprise and training provider who offer accredited dance training and dance workshops for young people with MLD (Moderate Learning Difficulties). Active Angels have now formed an over 50's dance group in creative dance as well as their youth group.
Presentation by Danielle Webb
Author of 'Mummy, there's a new girl', youth worker and advocate for change!
Music by fantastic Community Performance Groups
Music by Coffee and Laughs and Age Alive, Take a Breath and the Oasis One World Choir
Coffee and laughs is a Women's Friendship Group who meet every Thursday from 1.00-3.00 at Community House. For all faiths and None.
Take a Breath- open to anyone who would like to sing together at The Riverfront every Wednesday 1.00-3.00.
Oasis One Word Choir - Welsh winners of Creative Lives Awards 2022. Oasis Choir welcomes people seeking sanctuary in Cardiff and the wider community. They aim to learn from those who connect with the choir; sharing, growing and forming together. The language of music transcends these barriers, and Oasis One World Choir allows people to make new friends and build community together.
Short Film Screening and Q and A "Bubble"
A screening of Stacey Dalys debuts short film, titled 'BUBBLE' produced by BAFTA Cymru nominated, 'Focus Shift Films'. A film inspired by the lockdown and the impact this had on mental health, focussing in particular on the central female character's own mental health deterioration and psychosis. It explores love, loss and isolation during the pandemic and asks, "Who are we when no-one's watching"?
Stacey was announced as one of three winners to receive the Newport Women's Forum bursary award in 2022. The money has been used to fund some of the film festival entry fees for 'BUBBLE" so far.
Yin & Yang of Movement
An exuberant expression of yang energy through salsa dance followed by a quieter, calming expression of yin energy via Qigong with Carmela Gianfagna.
Dance Performance (MK dance)
Mandys classes are fun and adaptable for all. Social interaction is just as important as the exercise. Coffee and cake after class often happens!
This is Me by Kay Williams.
An Account of Women and Disability. The historical, and the personal. A chance to look at back the treatment of women and reflect on my own journey.
Mindfulness Workshop with Anna Baj
During the meditation, we will be inviting people to offer ourselves acceptance and care in kindness.
"Recognizing the unsettled mind", "Body scan with compassion" and "Loving kindness for others and ourselves".
Save Our Seas
Artist Stephanie Roberts will show a short film about Activist Angela Jones and discusses her new work, how you can get involved and creative activism.
Aleighcia Scott
Aleighcia Scott is a Welsh–Jamaican reggae artist and presenter currently working for the BBC. She is the current host of Thursday Evenings on BBC Radio Wales.
Her new single "Do You" has just been released!
Using Your Brokenness to Break Boundaries (film)
Grace Quantock ted x talk. Grace is a trailblazer, provocateur, writer and counsellor. She writes about the intersection between social justice, marginalised identities and the creative arts.
Windrush Exhibition Launch
The Launch of the Rae Council Cymru Windrush exhibition where we celebrate our community and A new exhibition opening at The Riverfront, Newport this weekend features stories of how the Windrush Generation Cymru made their homes in Wales.
Windrush Cymru – Our Voices, Our Stories, Our History will be on display at The Riverfront from 11 March to 24 March.
is exhibition features the stories of over 40 of those Windrush Generation Cymru, told in their own words. The exhibition is an opportunity for visitors to learn about their journeys to Wales, and the challenges they faced in building a new life in a country far from their homelands – finding work and the attitudes of people towards them.
The stories show how the Windrush Generation Cymru, and their descendants, have made their mark in all walks of Welsh life: through the jobs they worked, careers they built, the children they raised, and the contributions they made to our communities and culture.
Azadi Event
A fusion of craftivism, culture and Iranian live music, DJ, spoken word. Nowrouz inspired.
Dedicated to and in solidarity with the women, men and children of the Iran revolution.
What does International Women's Day mean to you?
We asked our collegaues, friends, supporters and partners what International Women's Day means to them. Here are some of their responses: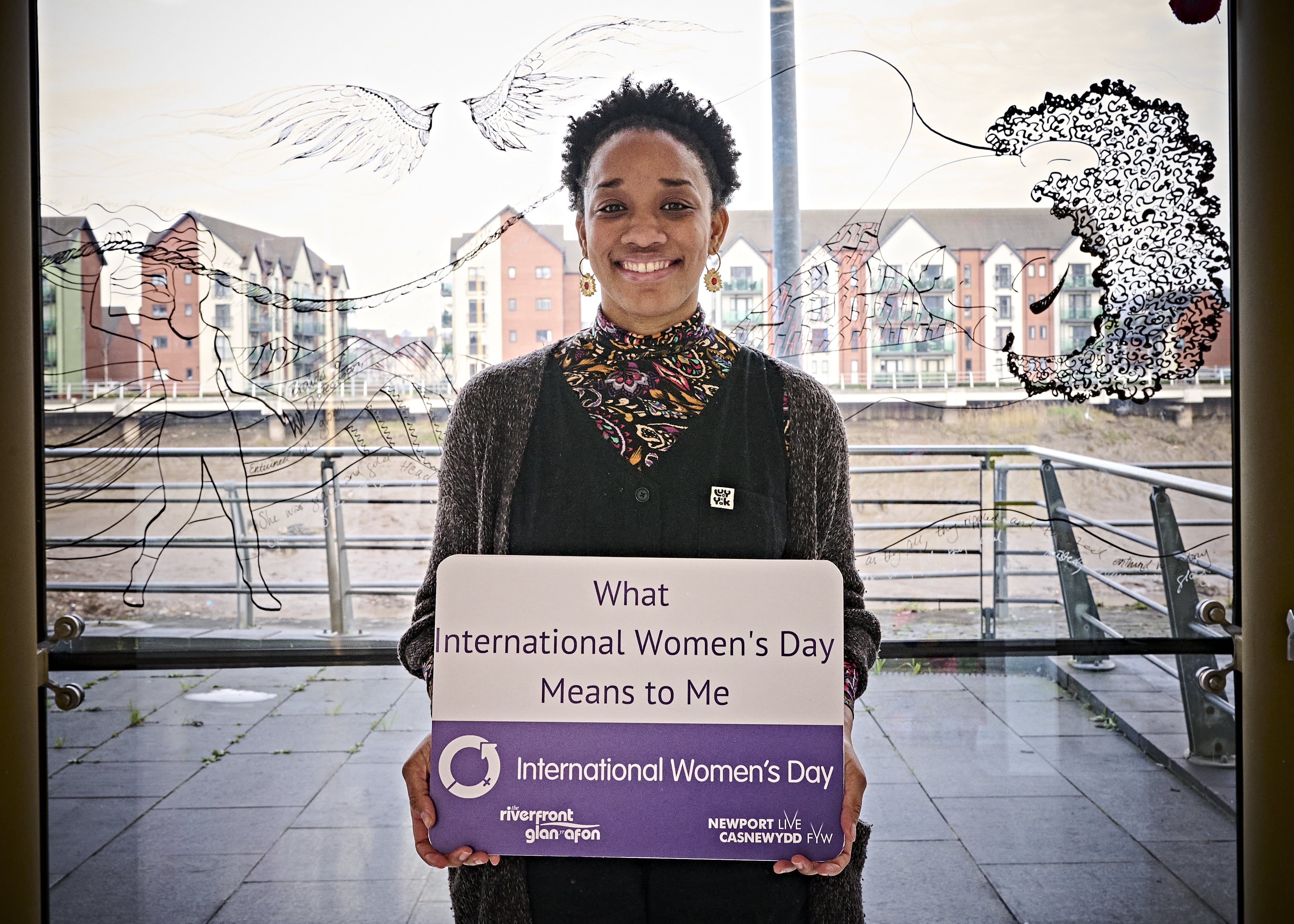 ''International Women's Day means celebrating all of us, in all our different experiences of womanhood, equally. It means recognizing the love and beauty in us all!''
Krystal Lowe, Artist.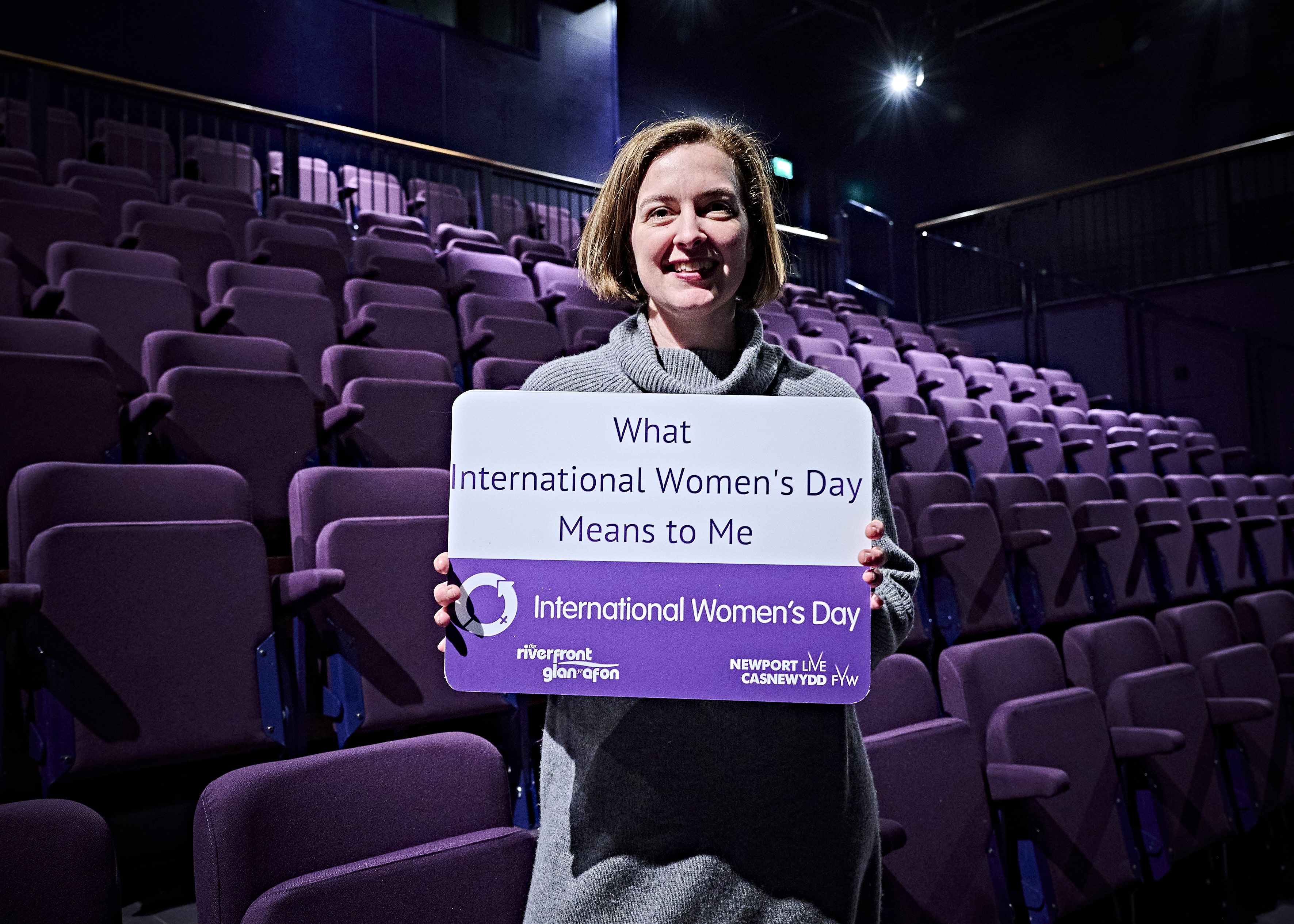 ''International Women's Day is an important opportunity to celebrate, support and empower women around the globe. It is a good time to reflect on progress that has been achieved and consider what still needs to be done.''
Gemma Durham, Head of Theatre and Arts at Newport Live.