Celebrate International Women's Day at The Riverfront!

Each March we celebrate International Women's day at The Riverfront with some fantastic free performances and taster sessions all with a female focus.
An annual fixture in our calendar, on Saturday 5 March our International Women's Day celebration will consist of free workshops, talks, crafts, performances and more, to mark the day after last years celebrations were held digitally due to the restrictions posed by Covid-19.
Newport Women's forum will also be at the event, launching their 2022 bursary scheme which, for the last 26 years, has been supporting women in Newport to achieve their dreams with a bursary of up to £1500.
Running throughout the whole day will be performances from celebrated Welsh musicians and community groups, panel discussions from inspiring local women in the cultural world and food, tea, coffee and cake to enjoy whilst meeting and chatting with like-minded people.
As well as watching a range of high class performances, there will be craft sellers for visitors to peruse and to purchase unique locally made goods, along with opportunities to craft and create for both children and adults as well as a range of creative, expressive workshops to take part in.
Guests are welcome to stay all day and enjoy a variety of events, or come and go at their own leisure.
All events, which will run from 10am-4pm, are free, and no booking is required!
Details of some of the activities can be found below the timetable.
Timetable for IWD 2022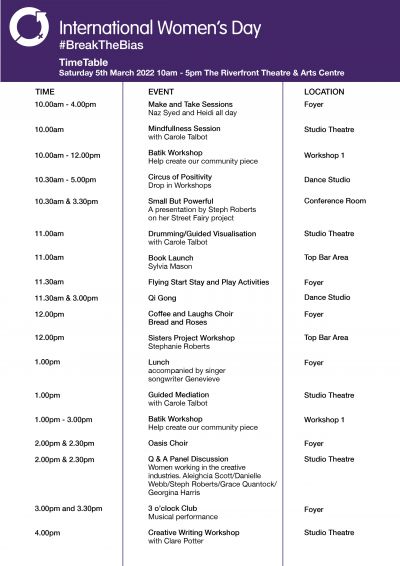 Performances
To launch International Women's Day 2022 at The Riverfront there will be two FREE performances of The Many Lives of Amy Dilwyn on Friday 4 March!
Suffragist, industrialist, philanthropist; Amy Dillwyn was a cigar-smoking, adventure-seeking, uncompromising change-maker.A trailblazing radical ahead of her time. A woman who became a legend in her own lifetime.
This is her story, adapted from her own words as found in her diaries and novels.
Talks
Local author Sylvia Mason will launch her book 'Mary Frost: Wife, Mother, Chartist' at 11am in the Riverfront Bar as part of the International Women's Day celebrations. Half of Sylvia's profits will go to the Newport Women's Forum and the other half to Our Chartist Heritage.
A highlight of International Women's Day at The Riverfront is always the panel discussion and question and answer session with inspiring local women in the cultural world. This the 2pm talk sees Aleighcia Scott, Danielle Webb, Georgina Harris, Stephanie Roberts and Grace Quantock take to the Studio Theatre stage to discuss women working in the creative industries and the theme for IWD 2022, breaking the bias.
Grace Quantock, a therapist specialising in complex trauma and marginalisation, talks about what it means to take a trauma-informed approach to equity and inclusion in her talk 'Trauma Informed Approaches to Sustainability in Equity.' In the arts and beyond, sustainability is needed in our inclusion and activism. Tackling myths about trauma can help us support ourselves and each other as creatives and activists.
Music
The Coffee and Laughs choir will be launching the musical programme for the day which will include performances from The 3 O'Clock Club, Genevieve Gyseman and the Oasis Global Choir.
The Three O'Clock Club are a female acoustic trio based in South Wales. Consisting of Guitar, Ukulele, and Bass with a blend of 3 part harmonies. They will be performing a mixture of modern and classic pop covers.
Genevieve Gyseman is a Welsh-born singer-songwriter. In her music Genevieve blends together jazzy, soulful vocals with gentle folk guitar, the result is an enchanting and emotionally true sound - that cuts to your heart while somehow putting a smile of your face.
Workshops
There will be a variety of workshops running across the day.
Clare Potter a bi-lingual Welsh poet, will be running creative writing workshops throughout the day. Clare's practice focuses on wellbeing through writing, and will be a fun and creative way to express yourself.
At 11.30am there will be a Taiji Qigong workshop with Carmela Gianfagna ​​​​​​, titled 'Unifying Mind, Body and Breath for Inner Peace & Calm.' The Workshop will involve gentle exercises to balance and reset the nervous system for better mental health and well being.
Stephanie Roberts will hold a Street Fairy workshop from 12-1pm. A creative arts and expression workshop for people interested in addressing issues related to safety and the wellbeing of self and others, in public spaces.
At 1.30pm and 3.30pm Circus of Positivity will be offering free taster sessions, open for all ages and abilities to come along and try a variety of ground-based circus skills. Try something different and learn the basics of a few skills, such as club juggling, poi and plate spinning.
Stallholders
There will be a range of stallholders displaying and selling products including Community Youth Girls Project, Beechwood WI, Lady Rhondda Statue, Strong Girls Club, Remake Newport and Newport and Gwent Literacy Club.
What does International Women's Day mean to you?
In 2021 we aked our social media followers what International Women's Day means to them, why its important to them and what they would change as part of the theme #ChooseToChallenge. Here are some of the responses we received: