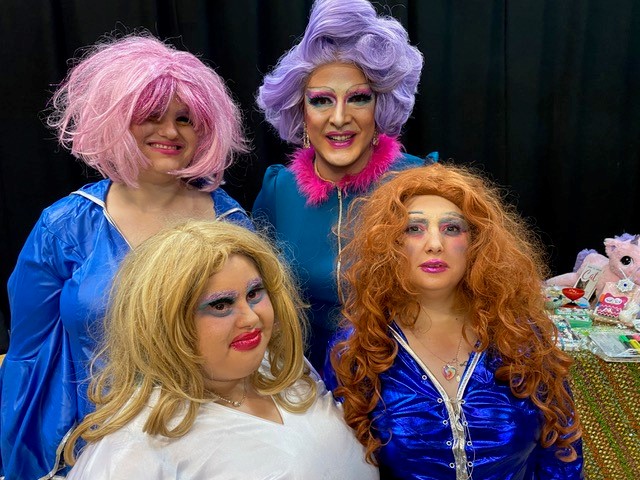 Following the success of the weekly Late Night Natterbox show on Sofa Share Wales during the 2020 lockdowns, drag performer Ernie Sparkles brings character Dragma live to The Riverfront Theatre & Arts Centre on the 10 & 11 December in Dragma's Late Night Natterbox Live.
This fabulous and festive production will feature performers from 'The House of Deviant', Wales' premier inclusive drag troupe featuring drag performers with learning disabilities in their public performance debut.
The House of Deviant is a South Wales based co-produced project that uses drag performance skills as a tool to explore self-esteem and autonomy with adults with learning disabilities who can otherwise have difficulties with issues such as social isolation and getting their voices heard.
Since its formation in Autumn 2020, The House of Deviant has been spreading fierce sass and fabulousness at online events across the UK including at pride events, Electric Umbrella TV and Gig Buddies. Despite still being in the early stages of formation, the House of Deviant's Queens have already found that they see themselves more positively and feel they can be more assertive in getting their voices heard.
Nicole Bird who performs as Flossie Sunshine comments: "Being in the House of Deviant is an amazing achievement because I feel like I'm a different person, I become a sassy person".
Sophie Scheeres who performs as Miss Shade adds: "It helps me to socialise and gives me confidence. It makes me fabulous to learn to do make up and dance routines and change my voice".
Drag performer, Ernie Sparkles (Dragma) who helped to set up The House of Deviant said: "I have learned never to underestimate these queens! They sing, they dance, they sass each other and constantly take the mick out of me! They do everything any other drag queen does, and let me tell you, it's not easy work as anyone who has watched RuPaul's Drag Race will know!
"Lots of people think people with learning disabilities can't do a lot of things, and part of the House of Deviant is showing people that they can! For example, I was told by people early on in the project that I would need to do their makeup for them. I thought, I shouldn't be doing things for them, they wanted to learn how to be drag queens, so taught them the skills to do their own makeup, and they look fabulous!".
In the show this December, Dragma's devilishly defiant granddragdaughters from the House of Deviant are home for Christmas having broken out of their zoom screen prisons and are ready to kick off the festive season with a fiercely inclusive night. Audiences can expect festive frolicking, nattering, eggnog and a lot of laughs!
Dragma's Late Night Christmas Natterbox Live featuring the House of Deviants comes to The Riverfront on the 10 & 11 December. Tickets are available now by calling 01633 656757 or online at https://www.newportlive.co.uk/en/events/6a4c51aa-0c33-ec11-80e4-00505601006a/