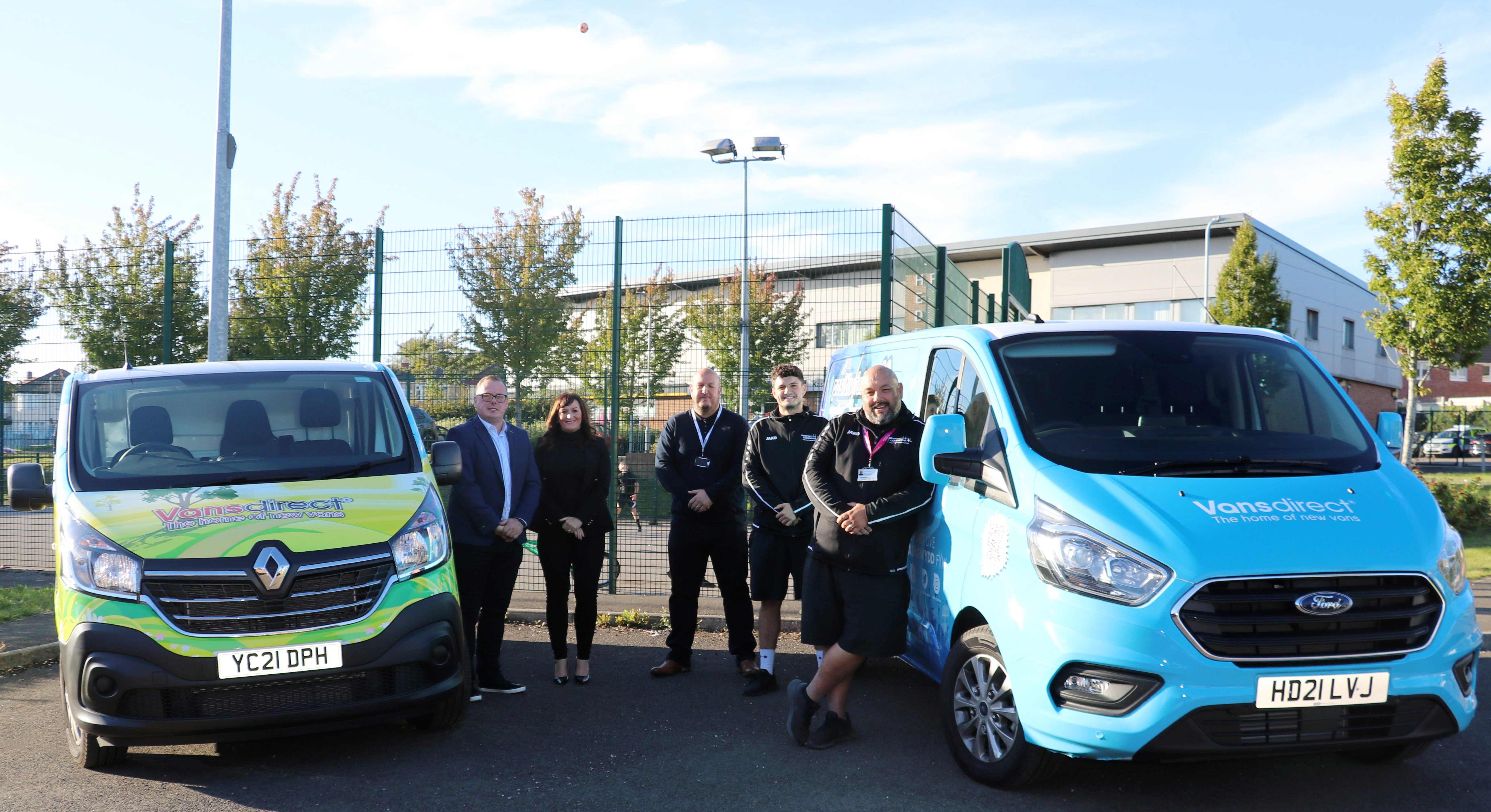 Vansdirect will be helping to support communities across Newport over the next 12 months, by partnering with Newport Live. Vansdirect have provided the charity with two transporter vehicles, in order to help further their activities in the community and allowing Newport Live to reach more areas across Newport.
This summer, the teams from Newport Live have been in multiple different community locations delivering fun sports, arts and other pop-up activity which hundreds of young people took part in. The addition of these two vehicles will mean the team can reach even more people across the city, transport equipment for activities, be identifiable to the community and partners; ultimately increasing levels of physical activity and supporting mental wellbeing.
Newport Live, a not-for-profit organisation and registered UK charity, delivers sport, leisure, arts and cultural activities across Newport at their facilities but also with schools, parks, clubs, and local groups.
The vehicles provided will also support other programmes of Newport Live's Community Sport and Wellbeing Team, who deliver interventions, activities, and projects for all age groups.
Working in collaboration with partners, teams of community sports coaches and wellbeing ambassadors work to support tackling holiday hunger, youth engagement, reducing anti-social behaviour, improving educational attainment, community cohesion, healthy schools, childhood obesity, mental health, equality and social inclusion. This is helped through sport, physical activity, and the arts to engage and inspire behaviour change in people.
Newport Live strive to make a difference in local communities, and to get more people increasing their daily levels of physical activity, whilst supporting mental wellbeing. The organisation and teams are held in high regard locally, regionally, and nationally by partners, and continue to use sport as a tool to engage and inspire people to be happier and healthier.
Vansdirect is an award-winning van leasing company which was established in 1999 in the Welsh Valleys. Providing these vans to Newport Live reinforces their commitment to supporting their local community and inspiring local people.
Samantha Ward, Operations Director for Vansdirect, commented: "We at Vansdirect want to be able to put back into the local community we work in, and Newport Live is a perfect example of a local charity providing so many wonderful examples of support through using sport and the arts to engage and inspire children, young people and families.
"The presentation we received really hit home to us the impact the charity is having in schools, communities and with young people.
"We felt it was our duty to help them, with vehicles which they'll use for programmes and events this summer and throughout the year."
Karl Reed, Head of Community Sport and Wellbeing at Newport Live, commented: "Having met with the team at Vansdirect, I was blown away by their knowledge of the area and what we were doing in communities and as an organisation. It was fantastic to see their enthusiasm to support us, and how important it is to them as a company.
"The partnership will allow our teams to reach more children, young people and families in more communities and schools than ever before, and we'll be able to take with us lots of sports, arts, and engagement activities and equipment alongside our qualified coaches and development officers.
"I hope the partnership will be beneficial long term to both parties, and that we'll create a long term supportive relationship into the future. We're very pleased and proud to have Vansdirect as our vehicle sponsor."
As Newport Live is a charitable organisation, it is grateful to all of its customers and partners like Vansdirect, who are helping to support the delivery of community projects and activities across Newport.
To find out further information about Newport Live and the charity's Community Sport and Wellbeing programmes visit newportlive.co.uk, email sportsdevelopment@newportlive.co.uk, or contact 01633656757.