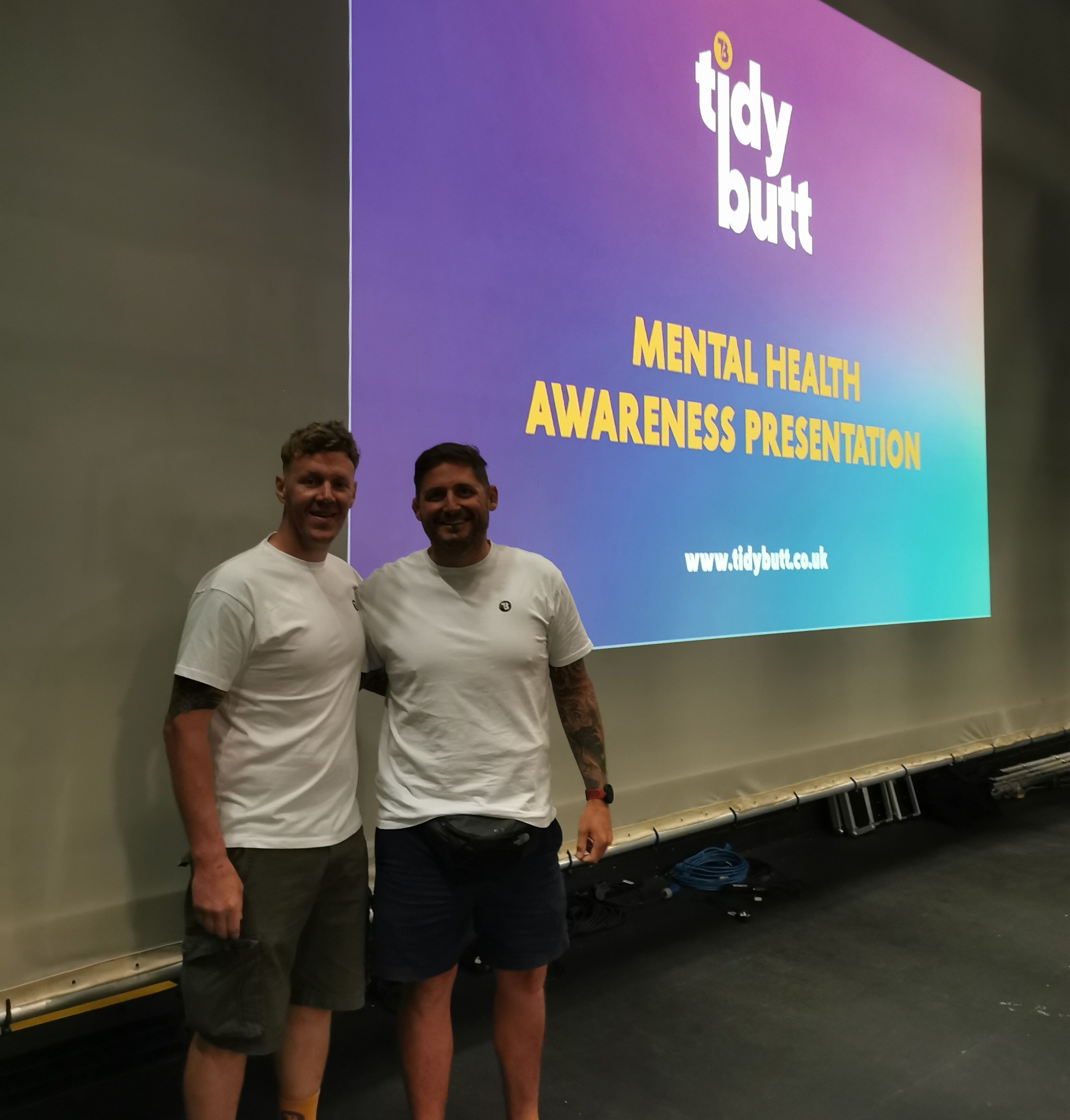 Newport Live's Positive Futures team are working with a new charity, Tidy Butt, to support others with overcoming the challenges linked to mental health and substance misuse.
Former-Welsh international Rugby player, Rhys Thomas, is an Ambassador for Tidy Butt and is working alongside founder Matthew Creel to promote their message about mental health; raising awareness and sharing support mechanisms they may be able to offer groups.
Yesterday at The Riverfront Theatre and Arts Centre, Rhys shared his powerful story referencing his own mental health issues and addictions to an invited audience from across sport, health and community sectors to understand how these organisations can access support for young people and adults engaged in their programmes, as well as staff who work in the sector.
Tidy Butt focuses on mental health challenges we can all face, particularly amongst males aged 16-40, and are looking at increasing their offer and working with young people and adults throughout Newport and Gwent who could benefit from talking about their mental health and discussing coping strategies.
The event was hosted and supported by Newport Live's Positive Futures team. Positive Futures is a sport based social inclusion programme that has been delivered in Newport for the past 14 years. The programme uses sport as a tool to engage young people, predominantly aged 10-19 years, within communities in local community facilities, and through a referral process from a range of partnership agencies.
Lucy Donovan, Senior Positive Futures Development Officer said: "We are currently working in partnership with Tidy Butt, a newly established charity that looks at supporting young people and adults with their mental health. We wanted to give them a platform to share their presentation and plans with relevant partners from the sport, health and community world throughout Gwent. We are confident that the package the guys can provide will add value and support to programmes looking at mental health and how to support people. We are seeing so many young people and adults struggling with their mental health as a result of the pandemic so now is a good a time to raise the profile of Tidy Butt."
Matthew Creel, Founder of Tidy Butt said "We are really looking forward to having the opportunity to present the Tidy Butt offer to a range of partners and services. As a result we hope we will be able to connect with others to provide support around mental health and wellbeing."
To find out more about Tidy Butt visit www.tidybutt.co.uk