Traditionally December is the month where panto fever takes over The Riverfront and thousands of people of all ages from Newport and beyond take to their seats to boo, hiss, cheer, clap, sing and come together for a couple of hours of pure joy. Unfortunately, December 2021 was a little different due to the absence of panto, but The Riverfront still welcomed all ages through the doors to enjoy festive treats; albeit of a different kind.
Shows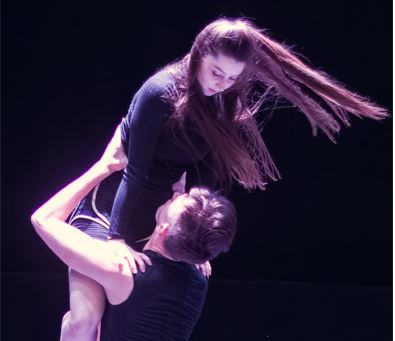 Rubicon Dance Company's The Nutcracker in partnership with the Riverfront took to the stage this December after months of hard work rehearsing in the building. The classic family-favourite was transplanted into a Welsh family Christmas for the very first-time featuring music by jazz composer Duke Ellington.
Rubicon Dance Company is a brand-new professional dance company created Rubicon Dance in direct response to the crushing effect of the pandemic on talented dancers from Wales, all now graduating into an arts sector blighted by the impact of COVID-19.
Kathryn Williams, Director of Rubicon Dance, commented "Wales produces amazing professional dancers, but they seldom have the opportunity to join dance companies based in Wales, and the pandemic has only served to amplify this long-standing inequity. We couldn't stand by and lose a generation of Welsh talent, and so we created Rubicon Dance Company."
This very special production not only featured 8 young dancers in their first professional roles, but also included starring performances from Linda and Sheila, two members of Rubicon's over 60s dance group.
In their show programme, Rubicon Dance Company added their thanks to The Riverfront 'This production would not have been possible without the support of The Riverfront Theatre. We would like to take this opportunity to thank every single member of staff at The Riverfront for encouraging us at every step of the way.'
December also saw performers from 'The House of Deviant', Wales' premier inclusive drag troupe for performers with learning disabilities in their public performance debut in Dragma's Late Night Natterbox Live. The House of Deviant is a South Wales based co-produced project that uses drag performance skills as a tool to explore self-esteem and autonomy with adults with learning disabilities who can otherwise have difficulties with issues such as social isolation and getting their voices heard.
Dragma's two-night run at The Riverfront saw the Deviants entertaining a diverse audience with their festive frolicking, nattering, eggnog and brought a lot of laughs! The Riverfront are delighted that Dragma and the Deviants will be back in 2022 with a brand new show, keep an eye out on social media for details.
The Riverfront's Associate Artist, and Children's Poet Laureate for Wales, Connor Allen returned to The Riverfront's stage this December with a short work in progress extract of his autobiographical tale The Making of a Monster. In the raw and powerful piece Connor examined his past and questioned his identity as teenage Connor makes a decision that will change the fabric of who he is, and the man he will become.
Cinema
The Riverfront Cinema was jam-packed with festive delights throughout December! There were family favourites with Elf and Polar Express, romantic tales with Love Actually and The Holiday, and Christmas Eve saw the screening of two Christmas classics, The Muppet Christmas Carol and It's a Wonderful Life. As the Christmas holidays started artist Nathan Sheen set up a stall in the foyer to deliver arts and crafts activities around the film screenings helping young people to create their own Christmas gifts and cards.
Workshops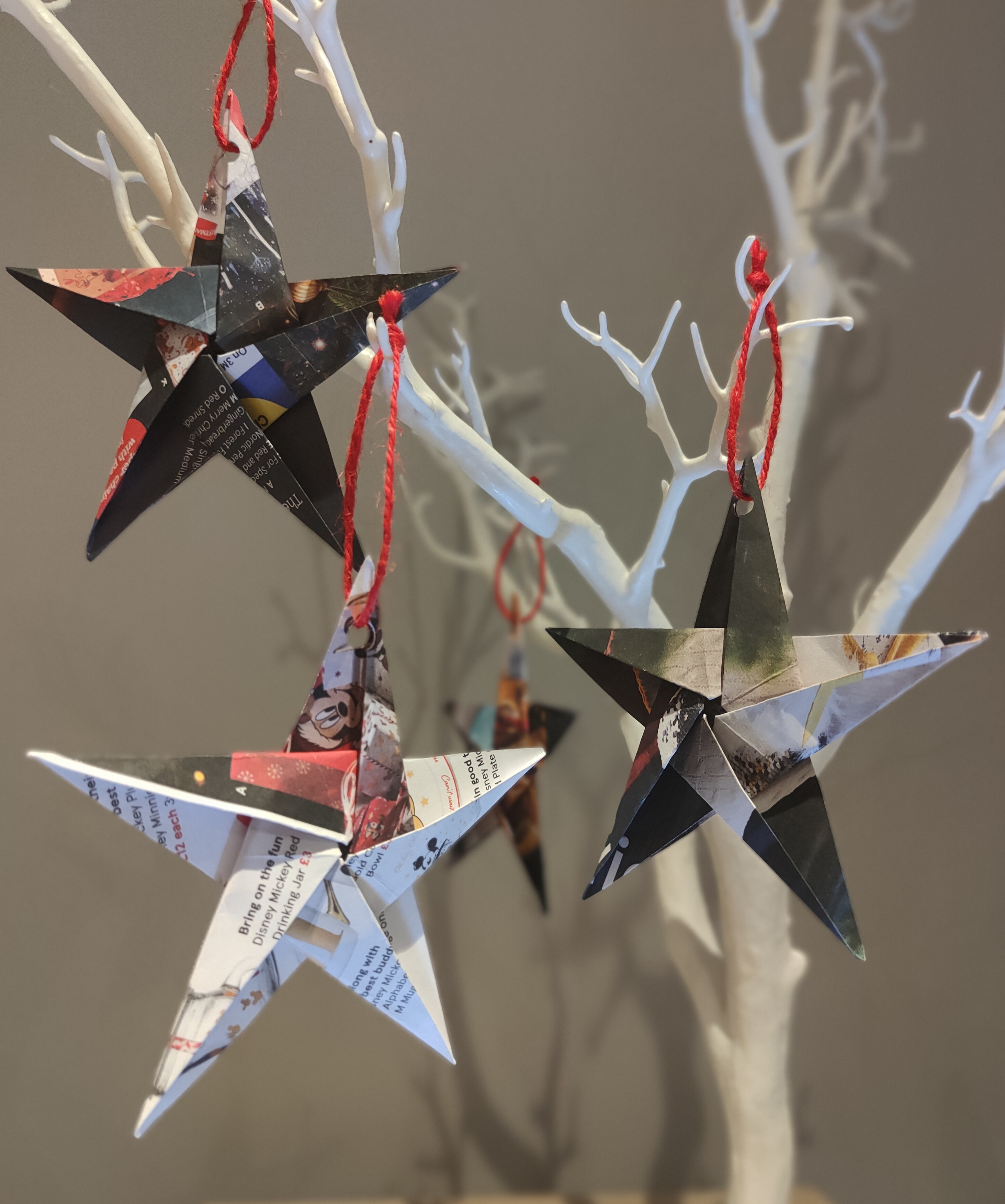 Throughout December The Riverfront ran the Crafty Saturdays series which included free arts and crafts activities in the foyer from 10am – 4pm, and one session even featured a special guest appearance from a singing Sugar Plum Fairy! Sessions this month have included activities with Urban Circle, recycled paper crafts with Heidi, allowing young people to make their own gift wrap and tags, and glass jar lantern making with Naz Syed. Arts activities also continued in Lliswerry Primary School as pupils had 4 sessions of Nutcracker themed crafts.
Each Monday during December Heidi also ran evening workshops to allow adults to create beautiful festive pieces to decorate their home or to give as a gift for family or friends. In these sessions participants made origami decorations, fabric decorations and a range of Christmas cards, tags and gift wrap. Materials used in these sessions were upcycled fabric and recycled paper, items participants could easily find at home in order to continue being crafty in their own time.
As our weekly workshops drew to a close for the year, each held a special festive celebration event. Young people from Hatch Youth Theatre gave a performance to their families and guardians, showing them exactly what had been achieved this year. Parents and babies from Tuesday's Hubble Music and Movement session ended the year with a Christmas party, complete with festive dress and of course mince pies! Attendees of the Potter on Ceramics Class for Adults finished the year being able to glaze and fire the wonderful works they have created this term and take home Christmas gifts.
The Riverfront's regular workshop programme recommences mid-January, with many sessions already bookable online. A range of new workshops will also begin in early 2022 so keep an eye on social media for details of these.
Other Activities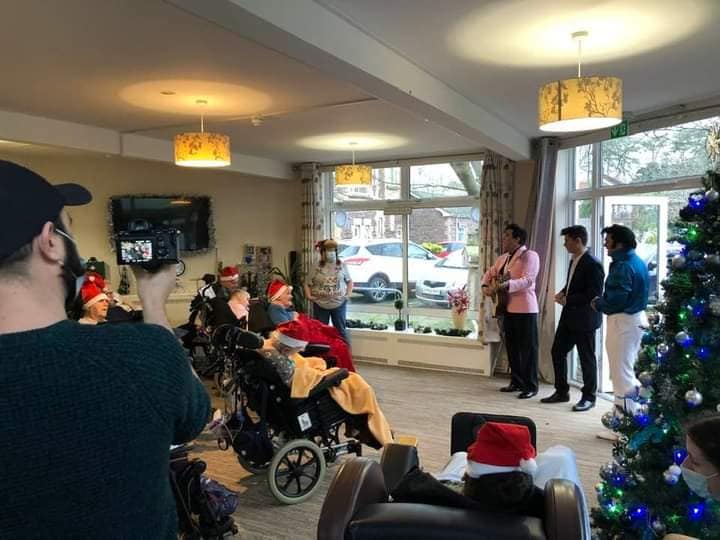 The Riverfront and Porthcawl Elvis Festival were due to have a Christmas singalong in the main auditorium for some community groups this December. Invited groups were to come along and enjoy and hour of festive Elvis entertainment but unfortunately due to Covid concerns the concert was postponed.
Instead, our three Elvis' went out on the road and popped in to perform for the lovely residents of Leonard Cheshire homes. They also recorded their very own version of 'Newport Wonderland' which can be viewed in all its glory on The Riverfront Facebook page or on and YouTube here.
During December The Riverfront's Arts Development team were delighted to support group attendance that was subsidised by a grant Newport Live received from the Winter of Wellbeing Fund. Iinvited groups from Carers Cube, HATCH Youth Theatre and Action for Children came to the theatre and experienced our wonderful performances for free.
Keep up to date with everything that's coming up at The Riverfront and find out how you can get involved in upcoming events or workshops online at newportlive.co.uk/Riverfront.