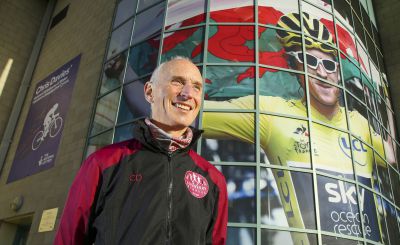 Iconic sports venues across Wales and England, including the Geraint Thomas National Velodrome of Wales, are today changing their names for a day to honour grassroots sport community workers and volunteers who have gone above and beyond during lockdown, with The National Lottery.
The venue name changes and the special dedications are taking place following the findings of a new UK-wide study commissioned by The National Lottery and published today, which shows that two thirds of sport fans in Wales (63%) say the pandemic has increased their love of sports and appreciation for being active. Additionally, over a third (38%) believe 2020 should be the year we celebrate community sportspeople in the same way we celebrate professionals and a similar number (30%) say the trying circumstances have made them even more appreciative of local sports volunteers than before.
In Wales, The National Lottery funded Geraint Thomas National Velodrome of Wales, usually named after the previous Tour De France winner, will become the Chris Davies National Velodrome of Wales for the day, after a local running champion. Chris is the Chair and Coach of National Lottery funded Lliswerry Runners, which plays a huge part in the Newport sports community. During the pandemic, the club worked tirelessly to keep members active and offer support and encouragement for people of all abilities. They created virtual events and reduced capacity club events which brought the community together in a safe environment, during the difficulties of the pandemic.
Sport Wales National Outdoor Centre in Caernarfon, North Wales, will be renamed Ken Newing's National Outdoor Centre, in honour of a local sports volunteer who, despite shielding, organised e-sailing programmes and started conversations across social media encouraging club members to share their stories of sailing, bringing the community together at a time when many would have otherwise been alone.
The current National Lottery funded Olympic gold medal winning sailor from Cardiff Hannah Mills, has spent much of her time training and mastering her sailing skills on the water at The National Outdoor Centre. Congratulating Ken Newing, Hannah said: "The National Outdoor Centre has played such an important part in my life and it is wonderful to see it dedicated to Ken Newing in this way. 2020 has greatly impacted all sports at grassroots level in particular, and thousands of people have not been able to get the health benefits of being outside on the water and being active as they usually would. The findings from The National Lottery show how much people have missed the physical and social side of being part of their local clubs and Ken has helped keep smiles on people's faces and boost morale through his work. On behalf of the whole sailing community, we are very grateful for the work done by sports volunteers across the country this year."
On behalf of Lliswerry Runners, Chris Davies said, "We could not have helped so many people without a huge volunteering effort, especially the coaching team. Equally important has been funding we get from The National Lottery which we put into qualifying new coaches. We believe it is important to invest in grassroots activity that is physically and mentally beneficial for others. You just couldn't do that unless you had people who are willing to get qualified and lead. Thank you to all our coaches and National Lottery players for recognising and supporting our work."
Geraint Thomas is among the elite athletes who has received National Lottery funding over the years to help him train and compete at multiple Olympic and Commonwealth games. Congratulating Chris, he said: "It was an incredible honour to have the Velodrome named after me, but I'm equally honoured for my name to be replaced with that of Chris Davies for the day. The work Chris has done in the Newport area to help keep people fit, active, motivated and having fun during such a difficult period is truly inspirational. Grassroots sport is incredibly important, and Chris represents the many incredible Welsh people who came together this year, using the power of sport to make a positive difference in their community. The National Lottery has helped me enormously over my sporting career and Chris's work is an example of the other side of sport it funds which positively impacts people in local communities across the country."
On behalf of Port Dinorwic Sailing Club - Clwb Hwylio Y Felinheli Ken Newing said, "I still haven't got over it, really! I was both shaken and stirred when I found out, I was really lost for words. This club is a group effort, there are a lot of people who are involved and thanks to the National Lottery funding they can continue to be so. Our commodores do a fantastic job and this wouldn't be possible without them. We are the heart of the community and the community are a huge part of what we do. We're ordinary people – nothing more."
Sarah Powell, CEO of Sport Wales said, "With the help of The National Lottery's players, grassroots sports workers and volunteers from local clubs and organisations across the UK have been be able to continue to help people and communities to remain active, connected and motivated during the COVID-19 pandemic. Chris Davies and Ken Newing are amazing examples of the way people across grassroots sport in Wales play a fundamental role in providing much needed physical and mental wellbeing in these difficult times."
To find out more about how The National Lottery is celebrating the work done by unheralded people across the UK, visit www.lotterygoodcauses.org.uk