Has your child never picked up a racket? Are they aged 4-8? Then the LTA (Lawn Tennis Association) Youth Start programme is the perfect way to introduce them to the 'beautiful game' in a fun and relaxed environment.
Tennis will help your child improve their balance, speed and even concentration. Your child will also learn about respect, teamwork, and fair play as they develop their tennis skills.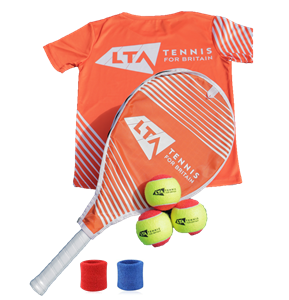 LTA Youth Start is a starter course for kids comprises of 6 high quality sessions for just £29.99 per child (plus £5 P&P).
When you book onto the course, you will receive a LTA Youth Start kit bundle (sent by the LTA), which includes racket, ball-set, a pair of wristbands and branded t-shirt delivered right to your door. (Note: kit design may vary.)
Our LTA trained coaches will ensure every kid has the best start to their tennis journey in a safe and inclusive environment.
These sessions are full of energy and cater to all abilities.
Sessions
| | | |
| --- | --- | --- |
| Tuesday, 2 January 2024 | 4 - 4:55pm | Newport Tennis Centre |
| Tuesday, 9 January 2024 | 4 - 4:55pm | Newport Tennis Centre |
| Tuesday, 16 January 2024 | 4 - 4:55pm | Newport Tennis Centre |
| Tuesday, 23 January 2024 | 4 - 4:55pm | Newport Tennis Centre |
| Tuesday, 30 January 2024 | 4 - 4:55pm | Newport Tennis Centre |
| Tuesday, 6 February 2024 | 4 - 4:55pm | Newport Tennis Centre |