Our Projects, Programmes and Initiatives
The Riverfront Community Arts Development team run a number of different projects, programmes and initiatives all designed to get as many people as possible of all ages involved in the arts and creativity. The Riverfront uses the arts as a gateway for addressing issues for a wide range of the communities across Newport and aims to break down the barriers that may be preventing members of the community from taking part and coming along to the theatre.
Reading the Rainbow
Reading the Rainbow is a Film Literacy Project aimed at young people aged 12 -15.
The project is an introduction to film literacy focused primarily on LGBTQ+ representation in film and how or if it feels reflective of the groups experience and identity.
Participants will be given a selection of film titles, which can be watch individually or as a shared experience (facilitated by the project delivery team).
During sessions we will discuss what we have watched as we explore LGBTQ+ representation in film and media. Discussion will focus on what are we have watched, what we think of it, was it real, was it a positive portrayal? How a character was portrayed- had the film maker created a cinematographic troupe or a well-rounded character? Is it similar to our lived experience? What cinematic device was used to influence the audience's perception of the character?
Participants will also be encouraged to share interesting media representations they have come across via other platforms and debate the juxtaposition of the media and it's representation – for example more "positive" portrayal of LGBTQ+ overall but does this dilute the issues that still face LGBTQ +community? Participants will explore the underrepresentation of LGBTQ+ people both on screen and within the film industry.
The project will be underpinned with media safety as we explore how to support LGBTQ+ young people to stay safe online by highlighting resources like thinkuknow.co.uk and internetmatters.org. There will be legacy information for participants linking to the festivals and resources available.
Dates
Week 1- 15th June, 5.30-7pm. Session will focus on film 'The Half of It'
Week 2 - 22nd June, 5.30-7pm. Session will focus on film 'Tom Boy'
Week 3 - 29th June, 5.30-7pm. Session will focus on wider media representation of LGBTQ+
Get Involved
If you would like to get involved in Reading the Rainbow contact Danielle on Danielle.Rowlands@Newportlive.co.uk.
Share the Love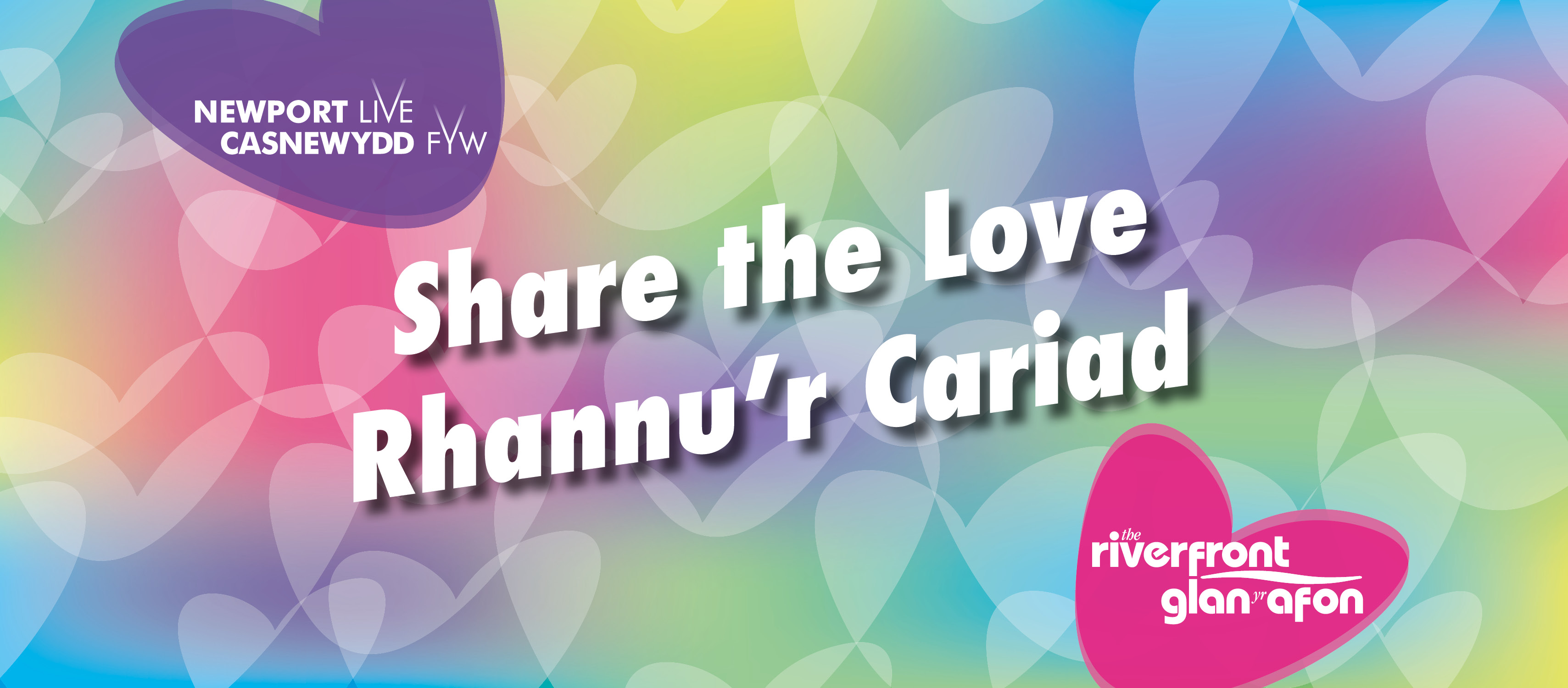 During this challenging time for everyone, we want to help everyone keep happy and well and share love and kindness throughout Newport.
Community Critics
We passionately believe that the shows, performances, films and activities we offer are for everyone and every age. We also understand that many people think that the arts isn't for them and we're on a mission to change this.
We want to provide opportunities for everyone to enjoy the arts, and Community Critics is just one of the ways you can get involved. Whether you're an individual, part of a community or sports group, you're involved with a charity or have a school group, you can apply to attend a show for free as part of our Community Critics scheme.
You can apply for tickets to any of our shows and – where possible – we will accommodate you. All we ask is that you provide a review of your experience; this could be a video, blog post, piece of poetry or artwork. Anything goes!
To apply to be a Community Critic, please email sally-anne.evans@newportlive.co.uk and let us know which event you'd like to attend, as well as your contact details. Please note, Community Critics tickets are always subject to availability. If we can't offer tickets for your chosen event, we aim to offer a suitable alternative.
School Groups
Our Arts Development team work closely with the schools in the local area in order to get as many pupils as possible to visit The Riverfront and take part in creative activities. In addition to school appropriate main house and studio shows, The Riverfront is also able to offer free Into Film Festival screenings, workshops, tours, talks and specific projects all suitable for the school curriculum.
If booking to come and see a show, we try to make it as easy as possible for schools. We offer a longer reservation period, invoice facility for ticket payment, special school prices, education packs and free tickets for supervising teachers. We also try to make the visit as safe and hassle free as possible, with coaches being able to drop off right outside the building. We can also help you to fill out a Risk Assessment before you get here.
Once a term we send out schools newsletters to update teachers on exactly what is coming up on and off stage, and we arrange a special Creative Conversation evening to open creative learning conversations with schools and education providers. As part of this evening we invite teachers and group leaders to join us for a bite to eat, a show and an evening of networking as we showcase what The Riverfront has to offer, all completely free!
Playhouse
Playhouse is a national collaboration between Theatre Royal Plymouth, Birmingham Rep, York Theatre Royal, Bristol Old Vic and Theatr Iolo. Each year, the partnership commissions new plays designed to engage with children as performers and their teachers as directors. Local schools come together to perform each play as a part of the Playhouse Festival.
The project begins with a virtual online day hosted by Theatr Iolo via Zoom for teachers and culminates in July with performances at The Riverfront.
Who is Playhouse for?
Primary school teachers interested in learning more about how to direct performances with a large young cast
Children aged 9-11 (Year 5 & 6) will have the chance to perform a new play in a working theatre
The play will be written for a cast of 20-35 so it can be performed by everyone in the class
We are currently on the lookout for schools interested in being part of the project. More information can be found below.
Meet The…
Meet The… is an exciting programme that introduces young people to a variety of creative arts opportunities and professions. This series includes Meet The Orchestra with Sinfonia Cymru, Meet The Venue which introduces young people to the range of careers available in the creative arts and Meet The Author which helps young people get into the mindset of a writer.
Creative Industry Day
Once a year The Riverfront throws open its doors to young people aged 13-18 for a day going behind the scenes in a busy Theatre and Arts Centre. The day will include talks with arts professionals, workshops with different departments and areas, and an exclusive tour of the venue.
For additional information on what we can offer schools and young people, contact our Education and Participation Officer Danielle Rowlands.